The WPPA Releases 2019 OIS Data
Wisconsin Officer-Involved Shootings & Deaths Increased in 2019
By the time 2019 came to a close, 32 officer-involved shootings had occurred in the preceding 12 months. This total not only exceeds the previous year's mark of 25 by 28%—it also represents the highest annual total recorded since the WPPA began collecting this data in 2014. In addition, 56% of the shootings that occurred in 2019 resulted in fatalities. By comparison, 48% of the shootings that occurred in 2018 were fatal.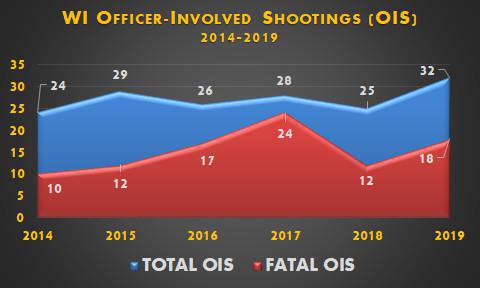 As with every other year for which the WPPA has tracked this data, the vast majority of shootings in 2019 involved armed subjects. In fact, of the fatal shootings that occurred last year, all but one involved an armed subject. That particular case, which involved a mentally-ill man that violently attacked two officers, reinforces a well-recognized rule of thumb within law enforcement—that an unarmed individual can still pose a deadly threat to officers and the public alike.
Also notable for 2019 was the significant rise in the percentage of incidents that involve subjects armed with firearms. Whereas firearms were once represented in approximately 60% of the shootings that took place in a given year, that number appears to be growing considerably. While additional years of data will be necessary to determine whether a trend in fact exists, data from the last five years provides a concerning snapshot of the increasing threats facing the officers that serve Wisconsin's communities.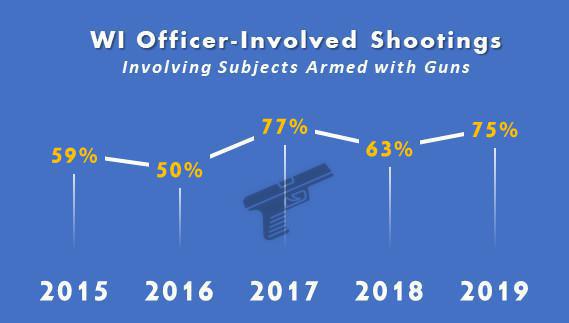 With regard to the racial demographics of the shootings that occurred last year, 63% of the individuals shot by officers in Wisconsin were white, compared to 52% in 2018 and 57% in 2017.
Since the WPPA began collecting this data six years ago, there have been 169 officer-involved shootings throughout Wisconsin. Of those, 95—or approximately 56%—resulted in fatalities.
For more information, contact WPPA Executive Director Jim Palmer.